H-shirt is a brand for Arab youth that consists of original silk screen printing on clothing and accessories. H-shirt aims to help local artists to produce many of their creative and unique artwork on high-quality clothing, and to make the wearer express himself without having to actually pronounce it.

What's the meaning behind "H-shirt"?
The "H" simply stands for Hisham Nabulsi, founder and creator of his own vision. It would also convey expected projects in the near future.
Who is Hisham? What's his story?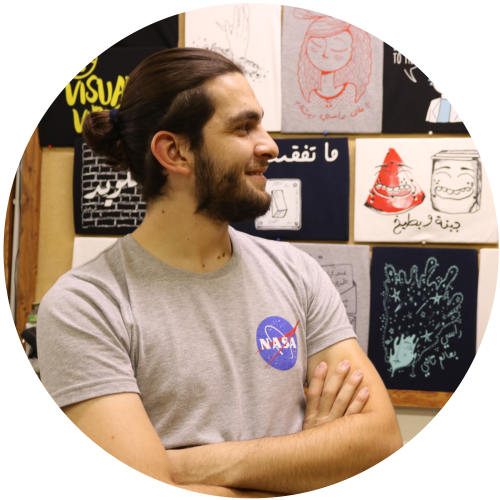 He is a Lebanese born in 1992. Likes Arabic calligraphy, deep conversations, and coffee. His journey all started in 2014 when he was finishing his Mechanical Engineering degree. He was hunting for T-shirts with Arabic designs on them, but after a long journey, there wasn't much luck. He tried customizing printed T-shirts from local print houses, it also didn't meet his expectations. Finally, it came to him: SILKSCREEN PRINTING. And all he had to do was make a business out of it.
How did H-shirt come into fruition?
Starting in 2015, after numerous experiments and research, they were able to use "silk screen printing" to transfer creative arts on cotton T-shirts. Slowly but effectively, it evolved into a micro business, through personal funding and limited resources. The production began at home, with very primitive home tools (ironing board, hair drier, second-hand wood, spoons…), because of the scarcity of resources.

Since then, H-shirt has been featured in many competitions and programs among successful ideas as it was granted in from the Tripoli Youth Entrepreneur competition 15,000$, the atelier location, and incubation from BIAT and The Chamber of Commerce in Tripoli. Those were resources for the capitalization of H-shirt that became an established functional start-up, thanks to those partners who believed in them.
What does H-shirt have to offer?

H-shirt is the right place for all who make business there.
Individuals with a vision, who like to put that on a piece of clothing, start to apply it in their very own designer's hub. Safe to say they have helped more than twenty artists organize their own special piece that people all around the world can appreciate and be able to acquire.

H-shirt approves of vast conceptual designs for their brand; from pop culture references, to intricate symbolism, to spiritual abstracts and amusing puns. They also provide customized designs for people who like to have their exclusively unique piece of originality.

Their line of work includes 1000+ products in total, categorized, in order, by cuts (men/women), color (basic & vibrant), type (T-shirts, sweatshirts, hoodies, bags and cushions as accessories), and design (about 70 to choose from so far). Moreover, as stated before, they have produced many customized items for clients to add a personal touch to their everyday material.

H-shirt provides a special service that not many businesses get to experiment with which is silkscreen printing. This vintage method of practice provides a handmade touch, which means it is handled with care and attention, with minimal defect, and just as much quality as any high-class manufacturing. Their services always handles the product with 100% premium cotton, so you'd feel comfortable in any kind of surrounding you're in, with the lowest cost possible.
H-shirt is always ready to collaborate with you so you can have your own type of brand, or to create a unique product so that everyone involved would feel proud of what the team has created.
What has H-shirt achieved so far?

Thus far, they produced four collections, in collaboration with 20 Artists and turned more than half of their stock of raw material.

They built a good professional network that gave them the opportunity to import raw material from Egypt, to deliver in average 110 orders monthly in Lebanon and internationally where they exported to many Arab world countries, USA, Italy, France, Canada, Sweden, Malaysia, and Germany. Their database of customers includes more than 1000 contacts to date.

They also built their online platforms that include their website with a traffic of 1000 to 2000 visitors per month, their communities on Instagram (2.6+ k followers) and Facebook (5.6+ k likers and followers), their engagement and the good reviews they gave us.

In many regions in Lebanon, they have participated to more than 20 events among others: Travel Lebanon in Beirut Hippodrome, Middle East Gaming Festival, BIBE Beirut International Beer Event, Jounieh Spring Festival in Collaboration with Souk al Tayeb, Marché De Noel in Bristol, Art Lab in Gemmayze and others.
They also collaborated with YouTubers like HowAboutBeirut and created a photography contest for local influencers to enlarge our awareness circle and create content for our channels.

The startup's story impressed many newspapers and media channels, as we gained media coverage (interviews, documentaries…) for:

AlJazira Documentary (Watch)
Now – ALAnn Channel (Watch)
Lebanese Passions Web Series - Joint Media House (Watch)
MTV Lebanon – The Start (Watch)
Of course, this is only a sliver of what the H-shirt team has planned in the near future. There will be many more projects, collaborations, plans and expectations to behold, so always be on the lookout through social media and this website.
#H_shirt